BONEBRIDGE BCI 602
Active Bone Conduction Implant
By combining powerful direct-drive amplification with proven transcutaneous technology in a streamlined 2nd generation implant design, the BONEBRIDGE BCI 602 offers an unmatched level of hearing performance and surgical flexibility[ft][ft].
---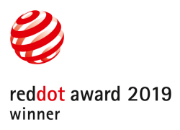 Awarded 2019 to the BONEBRIDGE BCI 602 Bone Conduction Implant.
Direct-Drive Active Bone Conduction
Straightforward Surgery
Long-Term Reliability
Bone conduction systems can be an ideal solution for mixed or conductive hearing loss, but not all bone conduction implants are created equal. Your patients are choosing to hear—why not choose to hear their best?
BONEBRIDGE delivers our proven combination of direct-drive active amplification and wireless transcutaneous signal transmission for excellent hearing outcomes across a wide range of candidacies.
Direct-Drive
Powerful Amplification
Feedback-Free
There are two main types of bone conduction: active and passive. Passive bone conduction uses mechanical amplification through the skin. This can be effective for conductive hearing loss, but some sound energy is lost as it passes through the skin. With active bone conduction, the mechanical sound energy is transferred directly to the bone for optimal sound quality and more powerful amplification.[ft]
BONEBRIDGE uses a one-of-a kind fully implantable electromagnetic transducer. The transducer is anchored directly to the bone. This direct-drive amplification enables powerful, high quality sound transmission across the full range of frequencies.
Immediate improvement at activation
High benefit levels reached quickly
Stable long-term benefit
Median values shown. The BONEBRIDGE Post-Market Clinical Follow-up Study (2019).
Nearly 10 years ago, MED-EL revolutionized the field of bone conduction with the first generation BONEBRIDGE. Now, with thousands of successful cases and extensive published clinical literature, it's safe to say that BONEBRIDGE BCI technology is here to stay.
The compact, energy efficient BC-FMT maximizes power-to-size ratio to deliver optimal hearing outcomes without compromising implant placement or battery life. The powerful floating-mass transducer enables effective amplification across the whole frequency spectrum—from the low frequencies for richness of sound to the high frequencies for better speech understanding.[ft][ft]
Percutaneous and passive transcutaneous bone conduction systems usually integrate the mechanical transducer into the audio processor. However, if the microphones and mechanical transducer are combined into one audio processor, this can cause uncomfortable audio feedback. This can limit the effective amplification range of these designs.
BONEBRIDGE uses wireless signal transmission between the SAMBA 2 audio processor and the active implant. SAMBA 2's dual microphones are separated from the mechanical output of the implant to minimize any issues with feedback, even at high gain levels.
Healthy Skin
Why is healthy, happy skin so important for every recipient? An audio processor only works when it's worn—and patients deserve reliable, complication-free hearing. That's why we designed BONEBRIDGE and SAMBA 2 for all-day comfort in any environment.[ft][ft]
Intact Skin
No Pressure
All-Day Comfort
Transcutaneous Technology
By design, traditional percutaneous BAHA systems require a screw and abutment that permanently penetrates through the skin, causing a significant risk of infection and other skin complications. This can lead to user dissatisfaction or non-use of these percutaneous devices.[ft]
With BONEBRIDGE, there's no need for an abutment, so the skin between the audio processor can heal completely after the initial surgery. Using similar technology to our cochlear implants, the SAMBA 2 audio processor transmits sound information as fully wireless signals to the implant receiver coil. With nearly 10 years of clinical experience, it's clear that BONEBRIDGE delivers superior outcomes compared to percutaneous bone anchored implants.[ft]
White paper On Safety Outcomes Of Bone Conduction and Middle Ear Implants:
A Systematic Review, rev. 5.0 (2020).
There are intact-skin BAHA devices available. However, these passive bone conduction devices require magnetic pressure to transmit mechanical vibration to a passive implant. This can cause excessive discomfort and may significantly reduce wearing time, which would reduce overall hearing benefit.
In contrast, the SAMBA 2 audio processor for BONEBRIDGE is held in place with gentle magnetic attraction, because no force needs to be transmitted to the active implant. Weighing less than 9 grams, the sleek, low-profile SAMBA 2 is worn completely off the ear and easily disappears beneath hair. Together, SAMBA 2 and BONEBRIDGE deliver all-day comfort for the best hearing experience in everyday life.[ft]
Through close collaboration with surgeons and clinicians, the 2nd generation BONEBRIDGE BCI 602 was engineered from the ground up to deliver optimal surgical handling and reliable implant fixation. With nearly 50% less drilling depth, solid 2-point fixation, self-drilling screws, and flexible implant positioning, the BCI 602 delivers exactly what you're looking for.
Flexible Placement
Easy Fixation
~50% less drilling depth
Flexible Surgical Placement
With an active bone conduction implant, it's important to place the mechanical transducer as close to the cochlea as possible. However, you also need suitable anatomy to accommodate the implant. Lastly, it's necessary to account for the placement of the receiver coil, as this corresponds to where the audio processor will be worn.
If an active bone conduction implant has a large transducer footprint, it may limit the placement options due to anatomical boundaries. Furthermore, if the transition between receiver coil and transducer has a rigid "monolith" design, then coil and audio processor placement is inflexible.
That's why BONEBRIDGE uses a small implant footprint and flexible design that's suitable for nearly any anatomy. With BCI 602, the flexible transition between receiver coil and the floating-mass transducer can bend up to 90 degrees in either lateral direction. The transition can also bend medially up to 30° to accommodate curvature of the skull. This gives you incredible flexibility in placing the both the implant transducer and the coil, enabling optimal outcomes across a wide range of anatomies.
With the 2nd generation BCI 602, we've reduced the drilling depth by nearly 50 percent compared to the previous generation—down to 4.5 mm. This puts the drilling depth on par with traditional bone conduction implants, without compromising performance or stability.
With a reduced drilling depth and small implant footprint, the BCI 602 can be flexibly placed in many positions on the temporal bone. The reduced drilling depth helps reduce risk of contacting the dura or other structures. It also helps broaden the range of suitable anatomies, making it especially useful in younger children.
BONEBRIDGE uses two titanium fixation wings to anchor the implant to the bone. This straightforward design makes it simple to secure the implant to the bone.
Even better, with the second generation BCI 602, we introduced self-drilling screws for easier implant fixation. This greatly simplifies surgical handling and enables a shorter, faster surgical procedure. Our new single-use BCI 602 Size Kit also simplifies surgical handling and clinical logistics.
Watch Now
See the detailed steps for implanting BONEBRIDGE BCI 602.
Peace of Mind
With a robust implant design and secure titanium fixation, BONEBRIDGE offers years of reliable hearing performance. No other bone conduction implant can match our record of long-term safety and reliability. With BONEBRIDGE, you'll have peace of mind knowing your patients are in good hands.[ft]
Magnet technology made for MRI:
With a secure force-free magnet design, BONEBRIDGE enables easy access to 1.5 Tesla MRI scans following simple safety conditions.* You can find the full MRI conditions for BONEBRIDGE BCI 602 in our Instructions for Use.
360° Reliability by Design
With a bone conduction implant, a reliable connection to the bone is essential. However, traditional BAHA-style implant screws have been shown to be vulnerable to osseointegration failure. Even newer single-point bone anchored systems may be at risk from external impact.
BONEBRIDGE is a robust implant engineered to minimize complications, withstand impact, and keep skin healthy. Using our proven two-point fixation with the titanium transducer resting solidly against the bone, BONEBRIDGE provides safe and reliable hearing by design.[ft]
Transducer recessed securely in the bone
Lower complication rate
Over a decade of unmatched, long-term clinical experience
Why MED-EL:
A Trusted Partner
For more than 30 years, MED-EL has been a trusted partner and innovation leader in hearing implants. We're here to work together with you, and we're committed to providing outstanding service and support for our professional partners.

With the most advanced hearing implant systems, we offer the best hearing experience for your patients and the best clinical experience for you.
Contact Us
Ready to learn more about BONEBRIDGE?
Fill out our simple contact form and we'll get in touch with you.
SYMFIT 8.0
The SYMFIT 8.0 software makes fitting SAMBA 2 easy and efficient. Its straightforward guided workflow includes precise Vibrograms and fitting tools to help you get the most out of SAMBA 2.
SAMBA 2
SAMBA 2 for VIBRANT SOUNDBRIDGE and BONEBRIDGE combines intelligent hearing technology with easy handling, intuitive connectivity options and improved fitting software to make hearing as simple as possible—for both hearing implant recipients and their audiologists.
24.4 mm
⌀ 28.2 mm
4.1 mm
4.5 mm
4.4 mm
64.3 mm
18.2 mm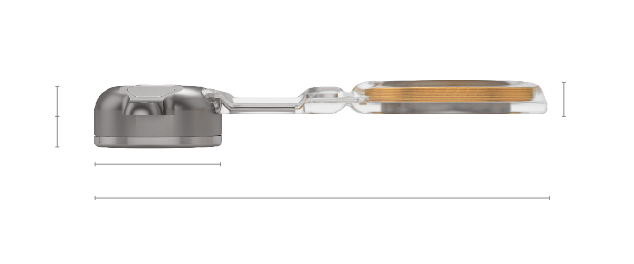 BCI 602 Implant
Implant Kit Contents
1 BCI 602 Bone Conduction Implant
3 Cortical Screws (Osseointegration of the screws is not required):

2 Self-Drilling Standard Screws 1.6 x 5 mm (silver)
1 Emergency Screw 1.9 x 5 mm (blue)

1 Surgical Screwdriver SD 2 (single-use)
Weight
Approx. 20 g
Materials in Contact With Tissue
Implant: Medical grade silicone elastomer, titanium grade 5 ELI (in accordance with ASTM F 136-12)
Screws: Titanium alloy Ti6Al7Nb
Screwdriver
Polyoxymethylene (POM), martensitic stainless steel (1.4197)
MRI Conditions
MR-conditional at 1.5 Tesla*
Maximum Diving Depth
50 m in salt water (6 bar)
Biocompatible according to ISO 10993-1
Latex-free***
Delivered sterile
Frequency Response Curves
Maximum OVFL90: 110 dB VFL
HFA-OVFL90: 102 dB VFL
Maximum full-on acousto-mechanical sensitivity level: 59 dB AMSL
Full-on HFA-AMSL: 50 dB AMSL
Equivalent input noise: 21 dB SPL
Total harmonic distortion, 70 dB SPL input level, 500 Hz distortion test frequency: < 5 %
Total harmonic distortion, 70 dB SPL input level, 800 Hz distortion test frequency: < 2 %
Total harmonic distortion, 65 dB SPL input level, 1600 Hz distortion test frequency: < 5 %
Total harmonic distortion, 60 dB SPL input level, 3200 Hz distortion test frequency: < 2 %
* The BONEBRIDGE bone conduction implant is MR conditional. Recipients with BONEBRIDGE may be safely MRI scanned at 1.5 Tesla following the conditions detailed in the instructions for use.
*** Whereby "free" means "not made with latex" according to current FDA guidance.